ASI Online SAT Course
The ASI Online Classroom Command Center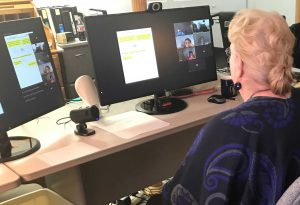 ASI will always prefer presenting our program with an experienced teacher IN THE CLASSROOM. As experienced teachers with over 25 years in the classroom, we believe this approach best facilitates observing, evaluating and motivating the student.  Because of the unusual circumstances of covid-19, however, we have added this online classroom resource.
The live sessions with our teachers will be via a 'live Zoom' format.
The set-up will be made and monitored by our IT staff in the ASI office in the States.  The online students will join a live session with our teacher here in the States at mutually agreed upon times.
Private tutoring is and always has been available to students via skype and now via Zoom as well.
Students will only need a computer (laptop or desktop) that has a camera and audio capability (earbuds with a microphone usually work better than the computer speakers). They can join the session from any location. (They do not have to all be in the same location.) They will also have to have the same packet of books and resource material, included for both onsite or online classes, that will be sent to the school.
We will issue codes to the students who have registered and entered a valid contact email address. ASI and/or the counsellor/coordinator will contact the student with the information about dates and times to log on. Sessions will run the same way that schools which were forced to close have employed to teach students via the internet.
As noted above, ASI has always presented our program with a teacher a school classroom – in the student's school environment. Throughout the 25 years that we have offered the ASI method and strategies, we are continuously convinced this is the best and most effective way to teach this material. We had not, therefore, offered and presented this type of online program up to this point. We have, however, been preparing for just this type of extraordinary circumstance.
At the end of three such online sessions, we compared and evaluated the effectiveness of our program presentation and student reaction. There was no compromise in the student's ability to interact with the teacher or to student practice scores. Score increases students ranged from 210 to 490 points – which is typical. The students were obviously still internalizing the method and material. The session is still conducted by an accredited teacher, just not in a physical proximity. Foremost, and most importantly, our program effectiveness was not compromised greatly in any way!